What You Can Expect On CougarWoo.com
Cougarwoo.com
claims that it's a completely private, safe site that gets you hooked up fast. They fell short on all of those claims with this member. I tried to find a date and instead had my face plastered on one of the main pages. So much for security! I e-mailed admin to take it down and thankfully they did but that could happen to anyone. If they don't think about your personal privacy, I can't imagine the dangers that come with providing your credit card information. Thankfully, they have the option to pay through PayPal. That was the only thing I was thankful for after joining this site.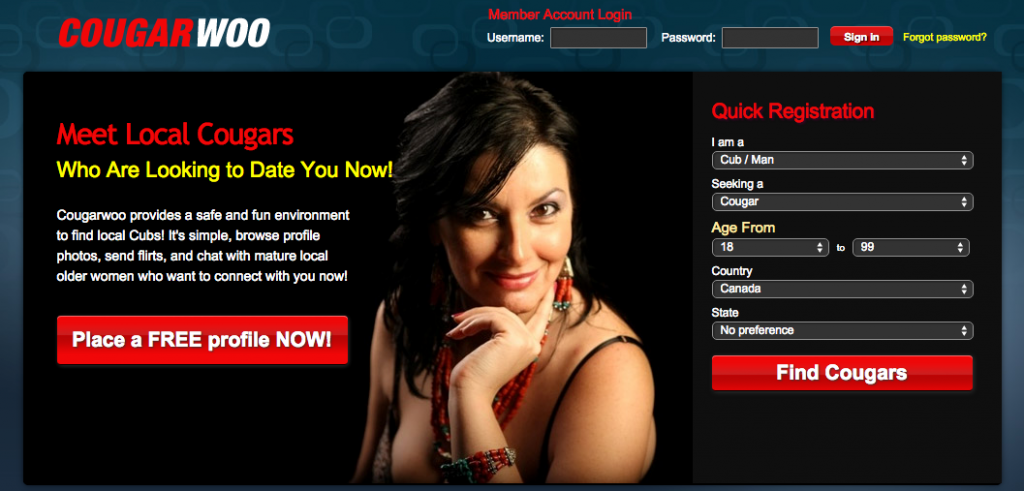 Results On CougarWoo.com After 3 months
The cost of joining CougarWoo.com: $29.95 for a 1 month premium membership $59.95 for a 3 month premium membership $95.95 for a 6 month premium membership The site claims that there is a free trial, but I never saw that option. I opted for the 3 month membership even though I was already a little weary just from the less than sexy homepage. In the 3 months that I was a member I sent 300 messages and received less than 20 in return. I had planned 2 dates and got stood up on both of them. My best guess is that the 'women' that wanted to meet either weren't real or were just playing games.
I've read that this Cougarwoo was a scam,
but some people say that when they haven't had any luck. You should really try a site for yourself, but in this case I urge you to save your time and your money. The flirting that did happen didn't last long either. It seemed like after 2 messages, the women would disappear. I'm disappointed that I spent 3 months and $60 for nothing.
CougarWoo.com Features
There are no features on
CougarWoo
that justify the cost or the time it takes to even find a match worth talking to. The matches that the site sent me when I signed up lived nowhere near me even though I specified my location on my profile. I made sure that all of my profile settings were up-to-date but that didn't help matters. You can send and receive messages and poke your matches. That's it. There is no video chat, no chat rooms and no blogs. The site boasts about blogs that offer free dating advice, but there are none to see when you become a member. Blogs seemed to be a big draw for cougarwoo so you would assume that there would be a huge section somewhere, but there were zero blogs to be found. Every feature that is included in your membership could be found on any free
cougar dating site
on the web. When you're paying this much money for a membership, there should be features that you can't find anywhere else.
Why You Shouldn't Join CougarWoo.com
If you're looking for a cougar dating site, keep looking.
Cougarwoo.com is a fake dating site.
There are no perks to justify the cost of the membership, and you won't find the dates or sex that you're looking for. As much as I would like to tell you that you'll have some luck on here, you won't. Save your money and go out for dinner instead – you'll have a better chance of meeting someone there. Dating can be tough enough as it is without wasting time on a dating site that spins you in circles, giving you just enough hope to think that your next fling is a message away. Take it from me, there are no hot mamas hiding on this site. Saying that I was disappointed might not be a strong enough statement. The fact that my privacy was jeopardized was pretty unbelievable. I'm happy that my issue was resolved, but not impressed that cougarwoo.com thought it was appropriate in the first place. A lot of dating site members are online for discretion and there is nothing discreet about having your face plastered on a main page for anyone to see. Thankfully I am reviewing sites and not trying to have an affair, or I would be in BIG trouble.